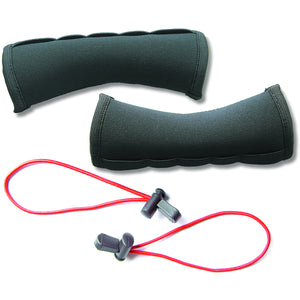 Umbrella Holder-Set
The Holder-Set allows you to attach your trekking umbrella or hiking stick(s) to all backpack systems which have suitable straps and/or loops.
The Holder-Set contains one pair of black neoprene holders and one pair of red adjustable bungee loops. The neoprene holders offer strong hold due to their elasticity and secure your trekking umbrella so it never gets lost. The material is weather-proof and very light.
With the red bungee loops the trekking umbrella can be fastened on a variety of different loops on walking and trekking backpacks. Plastic stoppers and high-tension create a tight and secure hold.
Fastening on the outside = more space inside!
---
We Also Recommend
---